---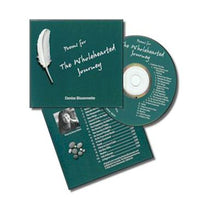 Author: Denise Bissonnette.
(CD, Approx. 67 Minutes)
On this CD, Denise recites the twenty-one original poems contained in her book The Wholehearted Journey. The central theme for each Chapter of The Wholehearted Journey is introduced by one of these poems.
As Denise recites them, the listener is taken on a moving journey that is delightfully woven through subtle yet profound truths of the human experience. True to the spirit of her work, Denise's poems both affirm us in our current life's journey and challenge us with new opportunities to live our lives with greater conviction and passion.
Buy one for yourself - and see why Poems for the Wholehearted Journey will also make a unique and memorable gift for friends and family members!
Because of its strong focus on authenticity and self-expression in the workplace, A Pilgrim's Plea is also an excellent career-oriented tool for staff/employees. A great resource for seminars on job search and career development!
Poems Included:
I Dedicate This Day
Unlived Dreams And Rising Bread
Arriving
Nurture Your Nature
Rekindle The Flame
The Masquerade
New Wings
Lessons From The Apple Tree
Meadowlarks
The Puppeteer: An Ode To Work
The Beauty Of Today
The Journey To Belong
On Second Thought
At The Feet Of The World
A Heart Contained
Hands
I Want To Live In Color
Not One Alike
Rhythm
Veil Of Wonder
A Pilgrim's Plea