---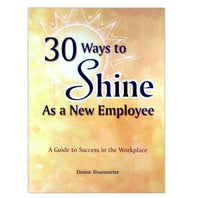 Author: Denise Bissonnette. 
(Soft cover, Spiral-bound,130-page Workbook)
A fun and inspiring guidebook for new employees - focusing on the "soft" skills that enhance job performance and retention.  As a stand-alone guide for someone newly-entering the workforce, as a refreshing guide for reclaiming our own spirits at work, as a pre-employment primer, or as a template for on-the-job mentoring, 30 Ways to Shine is both engaging and illuminating.
Order multiple copies and use these codes at checkout for reduced prices:
For a 17% discount on orders of 10 - 19 copies. 


Enter Code: SHINE10

For a 30

% discount on orders of 20 - 49 copies.


Enter Code:

SHINE20

For a 40

% discount on orders of 50 - 99 copies.


Enter Code:

SHINE50

For a 46

% discount on orders of 100 or more copies


Enter Code:

 SHINE100
(Please note: Only one coupon can be used per order. If you want to use a coupon for another product, you will have to place a separate order.)
Each of the thirty skills in this book is accompanied by simple tasks that can be acted on right away - enhancing the likelihood of success on the job. As a tool for excelling in our jobs, this little book connects us to the true power and influence that we all wield in our workplaces. It encourages us to bring all that we are to our work lives. It gives strategic advice on how to manage conflict and change.
In the context of "livelihood" as a journey, it prompts us to use even the most menial jobs as opportunities for growth and development.

30 Ways to Shine was developed to be used by companies as part of an orientation program for new employees or as the basis for new-hire Mentoring programs. It is also being used effectively by placement agencies for pre-employment workshops and/or post-placement job stabilising services.
Skills Covered Include:
Calming New Employee Jitters
Dealing With Change
Understanding Workplace Culture
Meeting New People
Satisfying Employer Expectations
Learning To Relate In The Company Style
Clarifying Performance Goals
Paying Attention To Your Surroundings
Learning From Mistakes
Not Letting Worry Cramp Your Style
Reflecting The Company Image
Exceeding Employer Expectations
Shining In The Eyes Of The Employer
Being A Team Player
Surviving Office Politics
Choosing To Think Positive
Facing Your Fear And Finding Courage
Breaking Bad Habits Of The Mind
Coping With Everyday Life
Taking Small Steps To Change
Controlling Your Anger
Making Yourself Understood
Benefiting From Praise And Criticism
Developing The Ability To Really Listen
Dealing With Difficult People
Making A Difference
Making Work Meaningful
Living Each Day Gratefully
Learning From A Mentor
Balancing Life And Work